Community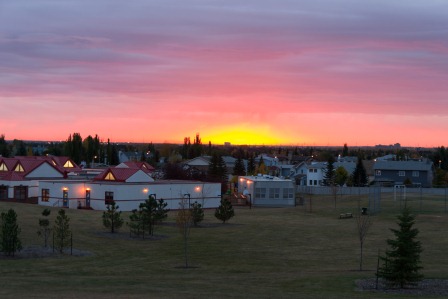 Earl Buxton School is located in southwest Edmonton in the Riverbend community. The school primarily serves children from the Rhatigan Ridge, River Ridge and Falconer Heights neighborhoods.
The School Council plays a very active role in supporting the school. The rate of volunteerism by parents is extremely high.
The school staff enjoy a positive working relationship with St. Mary Elementary School with whom we share a common playground. The Riverbend Community League building is attached to the school and we have a mutually beneficial partnership with them as well as the YMCA. The YMCA leases a portable from EPSB and offers before and after school care for a number of our students,with evening access to our gymnasium allowed from 4:00 to 5:00 pm. Our gymnasium is heavily used by community members from 5:00 to 9:00 Monday to Thursday.
YMCA
The YMCA of Northern Alberta is the largest and most trusted provider of not-for-profit child care in the city. We provide child care from birth to 12 years of age, depending on the centre you choose.
YMCA Child Care offers an array of benefits for your child:
Daily communication and feedback between parents and staff (written daily reports in daycare).
Free YMCA Child Membership allowing access to swimming lessons and other YMCA drop- in programs.
Nutritious (and allergen aware) morning and afternoon snacks.
School-age care provided during non-school days and holidays so parents are able to continue working.
Special events and field trips.
Wide range of physical activities offered to promote healthy development.
Connections to other families at Family Events held throughout the year to celebrate special occasions.
Riverbend YMCA Child Care is serving children attending the Earl Buxton School.
Highlights of Program
Large program space
Serves Earl Buxton School
Computer access and usage
Facility gymnasium access
2 snacks provided daily (minimum 2 Canada Food Guide Groups)
All field trips and special programming are included
Location & Contact Details
Riverbend YMCA Child Care
258 Rhatigan Road East
Edmonton, AB
T6R 2P9
Community League: Located in Riverbend Community Centre - attached to Earl Buxton Elementary school - access from staff parking lot.
Modular: Located in a modular behind Earl Buxton Elementary school
Hours of Operation: 7:00 a.m.-6:00 p.m., Monday-Friday
Program Directors: Talwinder Gibson Talwinder.Gibson@northernalberta.ymca.ca
Modular: 780-432-3179
Care Details
For children 5-12 years old
Part time care is not available at this location
Capacity: 100
Program Fees: January 2021 Kindercare - $903; Out-of-School Care - $595
Kinder fee remains the same throughout the year, out of school care fee will be increased through summer break. Please check www.northernalberta.ymca.ca for details.
For any children requiring bus transportation, it is up to the parents to make arrangements for their children to be escorted in and out of the centre. Kindercare fees remain the same throughout the year.
Web site visit: http://www.northernalberta.ymca.ca/Locations/YMCALicensedChildCare/
YMCALicensedChildCareKindercare/RiverbendYMCAChildCare/tabid/218/Default.aspx